Randy H. Trau – President and Chief Executive Officer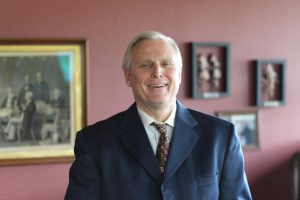 As primary founder of International Food Specialists, Randy Trau brings a tradition of creative vision, enthusiasm, and commitment. Randy's innovative leadership style has been a driving force to strategically position an organization for tremendous growth.
Such transformations were forged in his previous roles:
Director of Marketing of 13 Coca-Cola plants
13 Years in Food Brokerage
Founding Owner of Unified Wholesale Group
Director of Domestic Sales for McLane Global
His successful long-term partnerships with retailers have engendered him with a skilled insight of the industry. In both domestic and international markets, Randy has been instrumental in maximizing loads and profits for our customers.
As Randy charges into the 21st Century, he has spearheaded International Food Specialists to participate globally.
Randy's unique sense of determination, work ethic, and spiritual devotion to a higher purpose has inspired him to succeed. Without his own opportunity for a formal college education, Randy is committed to influencing potential college students that all is possible.
Most of all, Randy has a desire to help others. Randy's philosophy is "Often people must walk on the bridge of life while still building, not always certain where the bridge is going."